Expert Tree Services in Indian Spring Village
Three Decades of Offering the Best Tree Services in Indian Spring Village
In the tree industry in Indian Spring Village, Cahaba River Tree Service has established an outstanding reputation for over the span of three impressive decades. Widely acknowledged as a leading authority in the field, our expertise is further strengthened by our BBB accreditation. Whether you're a residential or commercial client, our skilled team is fully prepared to handle your tree projects efficiently and with an unwavering commitment to safety. As a licensed and insured company, we take great pride in delivering exceptional services that prioritize your peace of mind.
Ensuring safety is our utmost priority when it comes to tree removal. Our highly skilled team excels at navigating even the most challenging spaces and employs meticulous techniques to ensure tree removal without any damage. Each project is approached with precision and care, resulting in impeccable outcomes.
Moreover, our comprehensive range of services goes beyond expectations, focusing on enhancing the overall health and visual appeal of your trees and property. By entrusting your tree care needs to us, you can witness a remarkable transformation in your landscape while nurturing the vitality of your beloved trees.
Choose Cahaba River Tree Service for unmatched professionalism and exceptional quality as we continuously set new industry benchmarks for many more years to come.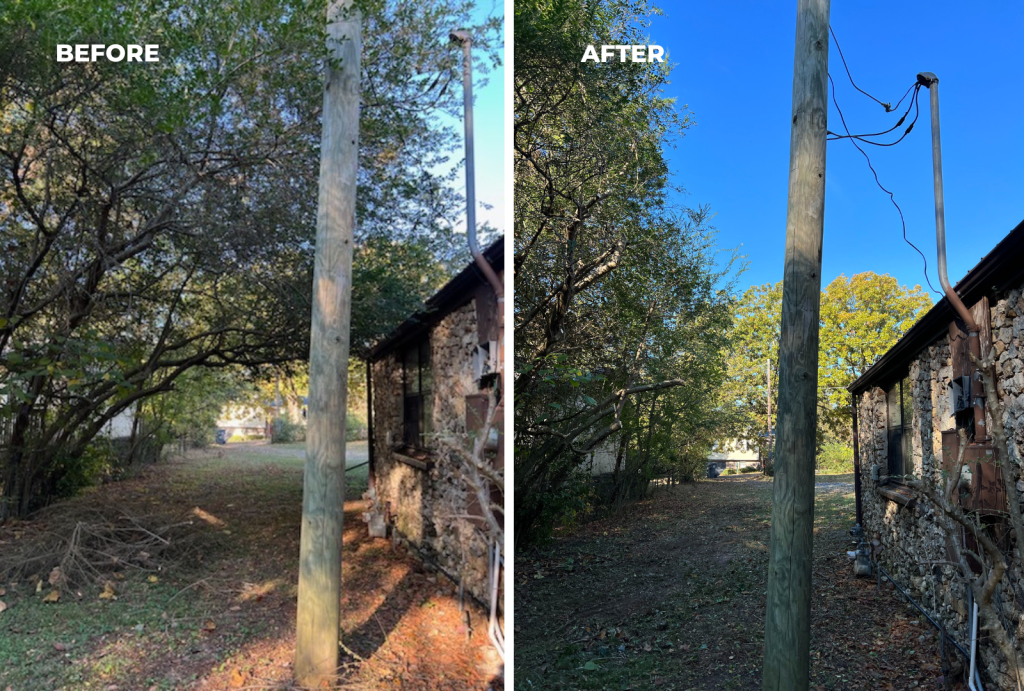 We offer the following services to the city of Indian Spring Village and other surrounding areas:
Prompt and Reliable Emergency Storm Restoration Services in Indian Spring Village
Storms can arrive unexpectedly, leaving little time to prepare. Regardless of the severity of the issue, we are well-equipped and capable of giving immediate aid. When dealing with storm-related issues, having a qualified, accredited, and educated partner on your side to help with recovery is critical. We are well equipped to deal with any harm caused by natural forces due to our extensive knowledge and understanding. Cahaba River Tree Service in Indian Spring Village, is a knowledgeable and attentive company that specializes in emergency storm restoration and provides prompt and dependable solutions.
Find Out More About the Advantages of Regular Tree Trimming
When faced with the possibility of branches harming our homes, we frequently overlook the importance of tree trimming. Financial concerns may heighten the desire to avoid taking this necessary step. However, it is evident that tree trimming has a variety of advantages that much outweigh our current knowledge of its significance. Here are two examples:
Trust Your Local Expert for All of Your Tree Service Needs in Indian Spring Village
Cahaba River Tree Service is your dependable local partner for tree trimming, topping, and removal. Rest assured that our first goal is to provide safe and effective tree services. With over three decades of tree industry experience, we have the ability and abilities to manage your jobs with the utmost safety and precision. Trust us to offer great outcomes while protecting your trees and property.
Whether You Need Tree Removal or Stump Grinding Service, Reach Out To Our Team For A Free Estimate. Call Us At 205-405-1336 Or Send Us A Message Online To Schedule A Visit From One Of Our Experts.
Mark and co did a really great job removing 5 precarious trees that were very close to our home. 3 of them over power lines, and 2 hugging or hanging over the house. They did a very professional job without causing any damage to the home or the yard. They took pride in getting the work area cleaned up. I thought it was a very fair price as well.

Experienced & Friendly Staff
My husband and I would 100% recommended Mark and his crew to anyone in need for tree services!! Whether it be trimming, cutting down, or grinding the stumps; Mark and his crew have you covered!! They're friendly and get the job done fast and efficient! They're professional and treat your home like they would treat their own! They clean up and haul it all away! Thanks so much guys for your wonderful services!!

Affordable & Special Offers
Mark was always on time whether it was for the estimate, or day of service. He was quick to respond to questions or messages. He was easy to work with and he and his employees looked and were very professional the whole time they were here. They did an excellent job for us cutting 11 trees on our property at a very reasonable rate. We would definitely use him again in the future. Thanks!

CAHABA RIVER TREE SERVICE